---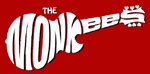 The Monkees
---
Let's Dance On
(Tommy Boyce/Bobby Hart)

Lead Vocals: Davy Jones
Guitar: Sonny Curtis
Electric Guitar:Glen Campbell and James Burton
Bass: Ray Pohlman
Piano & Organ: Larry Knechtel
Drums: Hal Blaine
Produced By: Snuff Garrett
Date: June 10, 1966

Garrett and arranger Leon Russell recorded Boyce/Hart's "Let's Dance On". Basically, clashes between the group and producer resulted in Garrett being released as producer and the track being shelved and, unfortunately, eventually lost. It should be noted that the boys were also filming the first season episodes at this time, from late May through July. The song would be produced by Boyce/Hart not long after.
---
Lyrics:
Let's dance on,
Oh, baby, come on.
Let's dance on 'til the dawn,
Have fun 'til the music's all gone.

We've been dancin',
Nearly all night long.
Let's keep it up baby,
'Cause the music's still strong.
We're doin' the Pony
Now you're doing the Jerk.
A come on, baby,
Let me see how you work.

Let's dance on,
Oh, baby, come on.
Let's dance on 'til the dawn,
Have fun 'til the music's all gone.

The way you're movin'
Girl, you look so fine.
You been doin' the Shotgun,
Let me see you do the Twine,