EPISODE INTERVIEW SEGMENTS OF THE MONKEES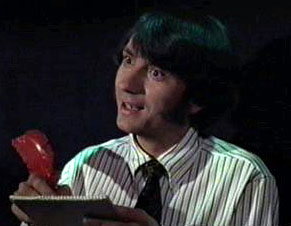 Have you seen all of the episode interviews? How revealing they are! Davy owns a dog and bathes! Micky goes to riots--er, demonstrations! Peter's goin' back to the Village! Mike gets cold in parking lots! Can you get enough??
For your reading amusement, dobolina* and Madame Spy have risked life and limb to bring you these precious scenes; annotated from microfilm for which dozens may have perished to deliver!
Editor's Note: These transcripts have been adapted from the Monkees' Paw site to The Monkees Film & TV Vault, with the able assistance of cached copies of the interview webpages in Internet Archives. (The Monkees' Paw site did see resurgence briefly, but now, it seems, sadly, it's been taken down for good...in which case the transcripts are here to stay!)
(These interviews are conducted by Bob Rafelson, the show's co-producer. Bob is always off camera.)
---
Royal Flush
Your Friendly Neighborhood Kidnappers
DAVID, MICKY AND MICHAEL'S SPECIAL GUESTS (MARCH 1968)
Charlie Smalls (David Jones' Guest - "Some Like It Lukewarm")
Frank Zappa (Michael Nesmith's Guest - "The Monkees Blow Their Minds")
Tim Buckley (Micky Dolenz's Guest - "Mijacogeo")
---
Back To The Monkees Film & TV Vault